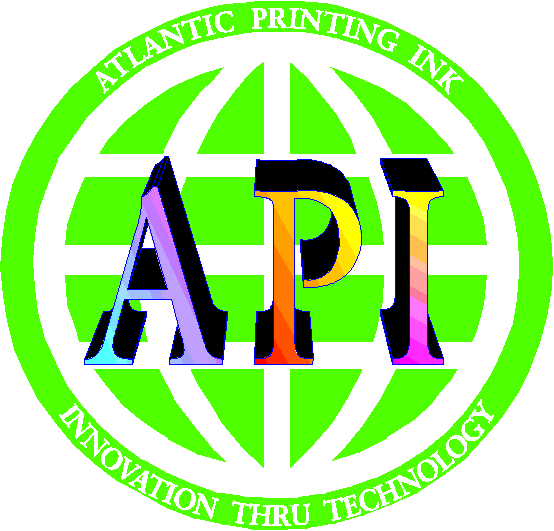 Waterbased flexo & gravure inks, UV/EB coatings, aqueous coatings, and specialty ink systems are designed for both narrow and wide web applications, as well as aqueous and UV coatings for the offset and screen printing markets. Our standard product display catalog is available by request. Take a look at some of our standard items . . . and contact us for your specific needs.
Example microphotograph of MLN Supro 40-917 Cyan Blue and a competitive Cyan Blue at 25X magnification. Printed with a 600 lpi, 2.7 bcm anilox (w/ blade) from same plate and setup. Our MLN (Millennium) Inks offer strength, low dot gain, and dot uniformity for excellent print results.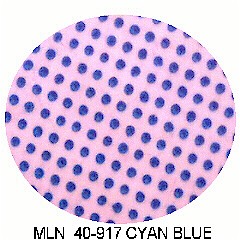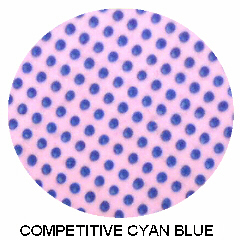 APPLICATION GUIDE
INK SELECTOR
NWS2 - 10,000 SERIES PRIMARY NARROW WEB SYSTEM FOR PRIME LABELS. PROCESS, HIFI COLOR AND HEXACHROME INKS.
NWHR-11,000 SERIES HEAT RESISTANT INK, LOW WAX LEVEL, IMPRINTABLE BY LASER, RIBBON, PEN, COMPUTER. HEAT RESISTANCE OVER 375° F.
NWHR-11,000-T SERIES for THERMAL PAPER APPLICATIONS. HEAT RESISTANT, WATER RESISTANT AND CROSSLINKED, WITHOUT ALCOHOLS or HMW GLYCOLS. LOW WAX FOR GREAT IMPRINT APPLICATIONS. MAY ALSO BE USED FOR THERMAL IMPRINT (ribbon) APPLICATION SYSTEM.
NWPFF-12,000 WR SERIES EXCELLENT PRINTING ON FILMS (and COATED or SYNTHETIC PAPERS). EXCELLENT WATER RESISTANCE, <1% V.O.C.'s, HIGHLY REACTIVE WITH CROSSLINKING AGENTS. GREAT ON POLY's, NARROW OR WIDE WEB PACKAGING.
NWPFF-12,000-F SERIES HIGH PERFORMANCE FILM SYSTEM WITH GOOD PRINT QUALITY. WATER RESISTANT, FOR TREATED, COATED, UNCOATED, UNTREATED FILMS AND SPECIALTY NON-POROUS STOCKS. GOOD RUB AND SCRATCH. CHECK FOR LAMINATION USE.
NWFL-13,000 SERIES FLUORESCENT INK SYSTEMS OFFERING EXCELLENT STRENGTH AND PRINTABILITY. LOW pH SYSTEM.
NWMT2/3-14,000 SERIES METALLIC INKS WHICH "GLISTEN". ALL PANTONE SHADES (MT2). MILLENNIUM 2000 SILVER IS A NON-RUB METALLIC THAT MAY NOT REQUIRE AN OVERPRINT IN MANY APPLICATIONS.
NWE-15,000 SERIES FLEXO ENVELOPE INKS (15-900) THAT OFFER HIGH COLOR AND LOW CURLING ATTRIBUTES. ENVIROGLOSS (15-500) OFFSET INKS FOR JET PRESSES. HYDROCARBON FREE OFFSET & LETTERPRESS INKS FOR PHOTOPOLYMERS.
NWUV-16-SERIES FLEXO, LETTERPRESS AND SCREEN PRINT UV INKS AND COATINGS. NWEB-16-SERIES EB CURE COATINGS.
NWE-18,000 SERIES TINTING INKS. HIGH SPEED INKS FOR GP AND GUTMAN TYPE TINTING MACHINES.
NWS2 - 20,000 SERIES. ECONOMICAL SYSTEM FOR TAG & LABEL ACCOUNTS. FOR HIGHER VOLUME ANILOX WITH OR WITHOUT BLADES.
NWSUB-21,000 SERIES TRUE SUBLIMATION (HEAT TRANSFER) INKS FOR FLEXO PRINTING. WATER BASED. PROCESS COLORS ONLY.
WWS2 - 30,000 SERIES PACKAGING INKS FOR LARGER PRESSES (OVER 8" DIAMETER PLATE CYLINDER).

NWS3 - 40,000 SERIES HR INK SERIES. BASED ON HI-PERFORMANCE RESINS FOR SPECIAL PROPERTIES. THIS IS YOUR ALL-PURPOSE INK SYSTEM FOR PAPER, FILM, AND FOIL AND LAMINATIONS: THERMAL PAPERS AND FILMS, IMPRINTABLE APPLICATIONS, WATER AND UV RECEPTIVE TOPCOATS, AND MORE . . . PRESS ADAPTIVE, STABLE, AVAILABLE FOR PRINTING WITH 600 LPI ANILOX FOR PANTONE SPOT COLORS, 1200 LPI+ ANILOX FOR PROCESS.
NWS3-41,000 SERIES OF INKS ARE FORMULATED FOR SECURITY/ANTI-COUNTERFEITING APPLICATIONS. IF YOU NEED PROTECTION FROM COPY OR DUPLICATION EFFORTS, SEE BELOW FOR MORE DETAILS.
WWS3 - 50,000 SERIES SYSTEMS THAT ARE SIMILAR TO THE 40,000, BUT DESIGNED FOR LARGER PRESSES (OVER 30" WEB WIDTH).
NWUVxx SERIES UV CURE COATINGS AND INKS FOR FLEXO APPLICATIONS ON PAPER AND FOILS. COATINGS AVAILABLE FROM 65 TO 1500 CPS IN VISCOSITY AND SPECIALTY INKS IN THE RANGE OF 400 TO 800 CPS.
( xx DESIGNATES VISCOSITY IN CPS)
PVC SERIES LETTERPRESS SYSTEM FOR PVC PLASTICS BASED ON ISOPHORONE SOLVENT. BASIC COLORS AVAILABLE.

SPECIALTY, SECURITY and MAGNETIC FLEXO INKS (Water and UV) FOR SECURITY APPLICATIONS. VARIABLE TEMPERATURE COLOR-TRANSITION POINTS.
NWS3-41,000 series of security marking inks: ThermoChromatic, PhotoChromatic, BlackLight indicators in several colors (blue, red, orange, yellow), Coinable with several color change imaging, Scratch-Off, ThermalCoatings, WaterMark, and Magnetic Encoding inks are now available. We offer more variations and custom formulations for security applications than any other company.
ADDITIVES TO ENHANCE DRYING, SLIP, RUB & SCRATCH, ADHESION, pH CONTROL, TRANSFER, CLEANUP, CHEMICAL RESISTANCE, BLACK LIGHT INDICATING, ETC. WE TRY TO AVOID THE NEED FOR THESE PRODUCTS AS MUCH AS POSSIBLE!!!
COATING  and OVERPRINT  PRODUCTS

ENERGY CURABLE PRODUCTS (UV / EB)
NWUV-16-840 High gloss, non imprintable UV curable coating. OS VERSION FOR LITHO OVERPRINT. fROM 100 cps TO 1100 CPS viscosity.
NWUV-16-841 Matte finish UV coating, imprintable, OS VERSION FOR LITHO OVERPRINT. Low 500 cps viscosity with <<30* gloss.
NWUV-16-842 High gloss imprintable UV coating. from 200 cps to 600 cps viscosity.
NWUV-16-846 High gloss, HI PERFORMANCE, non imprintable UV coating. at 250-600 cps viscosity.
NWUV-16-848/849 HIGH GLOSS, ECONOMY SERIES, priced in the sub $3 range. Volume pricing is great!
UVEB-16 SERIES OF EB COATINGS.
NON-SKID, LOW SLIP, HOT STAMPABLE, FLEXO, GRAVURE OR SCREEN . . . . LET US FORMULATE A COATING FOR YOU.
WATER-BASED PRODUCTS
NWS2-10-930 Gloss water-base overprint varnish for paper, film and foil.
NWS2-11-930 Heat Resistant water-base overprint - to 375°F.
NWS2-11-930HT Water-base High heaT resistant overprint - to 425°F.
NWS2-10-931 Water-base imprintable, gloss overprint.
NWS2-10-932 Water-base, matte/dull finish imprintable overprint.
NWS2-10-933 Star Gloss water-base overprint. 90+% gloss
NWS2-10-950 General Purpose, water/scuff/rub resistant
NWS2-10-934 CrystolTherm, a catalyzed aqueous coating
NWS3-40-930 GREAT GENERAL RESISTANCES FOR A GLOSS WATER VARNISH.
NWS3-40-935 Detergent, oil, alkaline, and water resistant varnish.
NWS2-10-937 Water-base citrus canister lacquer. Mira-strip receptive.
WWS2-30-960 Gloss, heat resistant, non-skid PrePrint coating.
WWS2-30-012 High C.O.F. , wet-block resistant water lacquer
WWS2-30-013 Low C.O.F. , wet-block resistant water lacquer

API-704 Gloss water varnish for wet-litho overprint. roller or blanket application.
API-764 Gloss, scuff resistant water overprint for wet-litho.